Todd's Protein Crisps are full of GOODNESS. They're as uncompromising on the inside as Todd was in making them. Todd's are made with real egg whites, prairie lentils and lots of other wholesome goodness. Todd's have the protein of more than 2 egg whites per serving. They're gluten and peanut free, keto & paleo friendly & naturally low carb.
Get $2.00 Cashback on Todd's Better Snacks from webSaver.ca.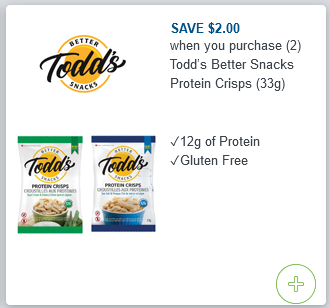 Todd's Better Snacks Protein Crisps Flavours
You don't have to give up the taste you love to be good. Try all four of these CLASSICS:
Todd's BBQ – Sweet, smoky summertime, with a side of afternoon ball game.
Todd's White Cheddar – Strong, sharp and creamy. MOZZA delicious. Very GOUDA.
Todd's Sea Salt & Vinegar – Tangy, salty, truth-or-dare S&V.
Todd's Sour Cream & Onion – Creamy Oniony Greatness.
Find more Canadian Coupons, Canadian Contests, Deals, Sweepstakes and much more to help you save on your online shopping at shoply.ca, where Canadians save money online. Find more Daily Entry Contests, Gift Card Contests, Multiple Entry Contests and Single Entry Contests at shoply.ca.